Hello everyone! It's Easter time and time for another giveaway! I am blessed to be able to giveaway these two great authors! Two of my favorites, in fact! "Once Dead, Twice Shy" By Kim Harrison is a YA fiction with a little bite! It is a fantastic read for those of you that like YA fiction, and for those that have never tried it, I say give it a try!
Madison's prom was a killer, literally, for some reason she's been targeted by a dark reaper-yeah that kind of reaper- intent on getting rid of her body and soul. But before the reaper could finish the job, Madison was able to snag his strange, glowing amulet and get away...
With a little ingenuity, some light bending, and the help of a light reaper (one of the good guys) her cute crush, and oh yeah, her guardian angel, Madison is ready to take control of her own destiny once and for all, before it rakes control of her...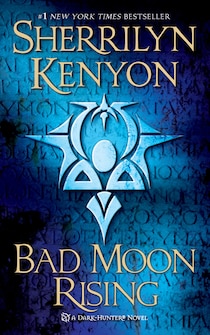 The next book being offered is "Bad Moon Rising" By Sherrilyn Kenyon! A Dark Hunter Novel and it's amazing! If you haven't tried Sherrilyn before, you can't know what you are missing! Those of you that like th BDB will love this series!!!!
Fang Kattalakis isn't just a werewolf. He is the brother of two of the most powerful members of the Omegrion, the ruking council that enforces the laws of the Were-Hunters, a when war erupts among the lycanthropes, sides must be chosen. Enemies are forced into shaky alliances. When the woman that Fang loves is accused of betraying her people, her only hope is that Fang believes in her. Yet in order to save her, he will break the laws of his people and the faith of his brothers. That breach could very well spell the end of both of their races and change their world forever.....
All you have to do is be a BACTB follower and leave a way for me to contact you in the comments! ex:yourname(at)yahoo(dot)com
One lucky winner will win both Hard Back copies of these books! Be sure to check out the rest of the blog hop with the linky!!!!!!
Contest is open to the continental United States and is open from today 4/15/11-4/17/11 @ 11:59pm.
Winner will be chosen at random from eligible entries on 4/18/11, good luck to everyone!